VMS Fleet Management Ltd debuts UK's first, 100% electric welfare van with partners Kier Group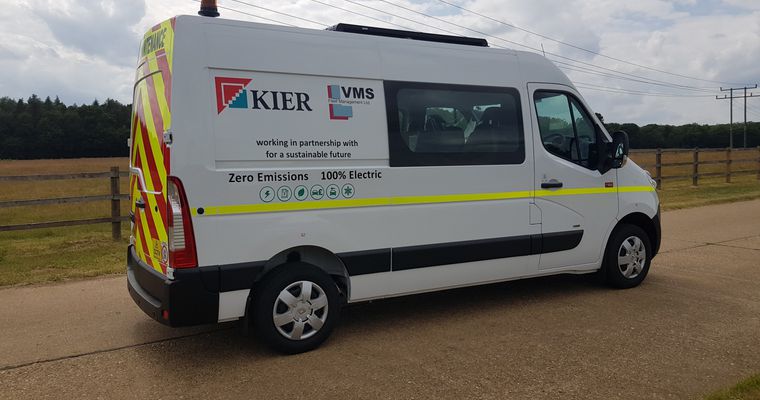 VMS Fleet Management Ltd has unveiled its first 100% electric welfare van, a Renault Trucks Master Z.E. This new generation vehicle is the first of its kind and is currently on long term rental with the Kier Group for use across a variety of their highway contracts.
The Master Z.E. L2H2 vehicle was supplied to VMS Fleet Management by Renault Trucks UK before going to Clarks Vehicle Conversions to be converted into a high quality, fully functioning electric welfare van.
Kier Group approached VMS late in 2019 having seen the vehicle in the design stage at Clarks Conversions, who were commissioned by VMS to build the prototype for their rental fleet. Following this, Kier and VMS partnered to create a greener fleet for the future.
The features of the new Master ZE L2H2 vehicle include:
• Standard welfare features, including a microwave, water boiler, dining table/desk, interior lighting, bathroom
• Accommodates up to x6 85kg people at one time, plus additional 225kg of weight
• Clever access points to vehicle and power elements
• Newly developed Clarks Cab Shield to assist in social distancing
The vehicle on test has a range of up to 120miles on a single charge dependent on route topography, load and driving style. Ideal for urban work, the Master Z.E. still has the capability for traditional highway work. The welfare conversion has the added feature of being powered by solar panels on the roof of the vehicle which charge a lithium battery pack. This pack can be removed to charge and/or replaced with charged batteries ready to use for the next working day.
The 100% electric van boasts zero tailpipe emissions and comes complete with full telematics courtesy of Geotab. This unique system has all the standard telematic features but also offers fault reporting, full EV system monitoring including state of charge and charging costs and the system is able to evaluate whole life cost as well as provide a comparison against a diesel or other fuel equivalent.
The vehicle is currently with Kier Group on long term rental as part of a partnership between VMS and the construction and infrastructure service business. The Z.E. will first be joining the Kier Group's Smart Motorway project M6 Jct 13 – 15, where it will be evaluated before moving to undertake broad tests across urban and rural contracts.
VMS has invested heavily in its EV fleet as the business is looking to aid customers in making the decision to 'go electric' and become more sustainable in the future; more electric vehicle announcements are to come very soon from the group.
Martin James, Managing Director of VMS Fleet Management Ltd said:
"After months of testing and working closely with the fantastic team at Clarks Vehicles Conversions, I am so proud to say that we can unveil the UK's first all new, fully electric welfare van. It really is a credit to all involved, especially considering that the teams on the group were building this vehicle and getting it delivered in such an unnerving time."
"I'm happy to see it out on the road being tested by the teams at Kier Group who are learning the new elements of this vehicle and how it fits in with their working day. We will continue to work with our partners Kier, who are at the forefront of sustainable transport, on ground-breaking new vehicles that will make a real difference to the environment. Watch this space."
Karl Simpson, Fleet & Plant Innovations & Business Improvements Manager at Kier Highways, said:
"It was great to work with VMS Fleet Management and Clarks Vehicle Conversions on the creation of a vehicle that will mark a change towards more sustainable vehicles for the future. It's not every day you get to work on a project as interesting as this one, and to develop a vehicle as different and exciting as the Renault Trucks Master Z.E. electric welfare van. We're looking forward to continued expansion of our green fleet and working with VMS on new vehicles in the future."
Grahame Neagus, Head of LCV at Renault Trucks UK, said:
"Renault Trucks UK and our dealer, Renault Trucks Chiltern, are delighted work with VMS and Clarks Vehicle Conversions to put this unique electric vehicle into service with Kier Group, operating in an industry sector that is not normally associated with electromobility. It is a great platform for us to showcase the ever-increasing flexibility offered by EVs, and the confidence in the Renault Trucks Master Z.E. product within established VMS sectors like construction is laying the foundations for greener, cleaner and more sustainable fleets."
David Chilvers, Head of Sales at Clarks Vehicle Conversions, said:
"It's been a real pleasure helping our longstanding customer VMS create this new generation welfare van. We pride ourselves as a business on listening to our clients and coming up with a solution that meets their needs and that's what we did with this particular convert.
"The Master Z.E. is something entirely new to the welfare market and the changes we've made to the vehicle show how the industry is changing and moving forward. Driving this van is an interactive and tactile experience, and we're in communication with the Kier team while they work with this vehicle to see how it is fitting into their team. We look forward to converting even more of the Z.E. for VMS in the future."
Want to know more about our conversions or how we can help you with your electric fleet? Contact us today: sales@vmsglobal.co.uk
Share this content online