A UK first, VMS launches an all-new 100% electric traffic management truck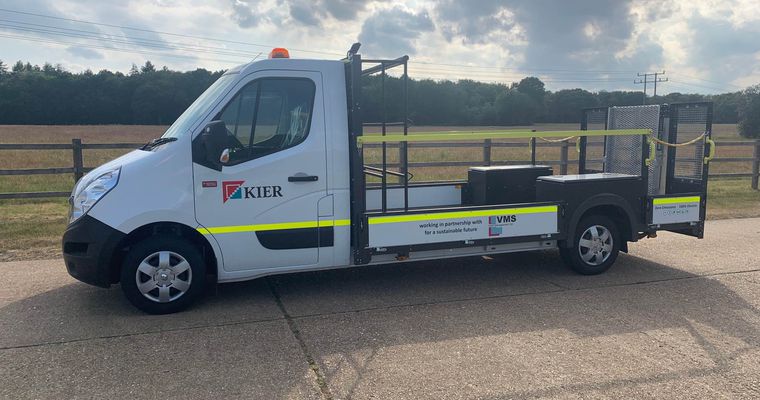 VMS Fleet Management announces the launch of the e-TM Renault Truck Master Z.E. an all-new, first of its kind, 100% electric traffic management truck. This is the second innovative EV announcement from VMS Fleet Management this year so far and is currently on long-term rental with VMS partners Kier Group.
The Master Z.E. L3H1 3.1 tonne vehicle was supplied to VMS Fleet Management by Renault Trucks UK before going to CPD to be converted into a high quality, fully functioning electric traffic management vehicle.
Kier Group was already working with VMS on the Master Z.E. L2H2 welfare van and then worked with VMS to help create a prototype EV traffic management vehicle for their rental fleet to help Kier create a greener fleet for the future.
The features of the new Master ZE L3H1 Traffic Management vehicle include:
• S&F rear folding ramp
• Full arrest system
• Toolbox
• Steps and handles for easy access
• Toast rack
• Reverse alarm and camera
The vehicle on test has a range of up to 124 miles on a single charge dependent on route topography, load and driving style. Ideal for urban work, the Master Z.E. still has the capability for traditional highway work. The extra low platform chassis make this one of the safest and easiest vehicles to operate on the market.
The 100% electric van boasts zero tailpipe emissions and comes complete with full telematics courtesy of Geotab. This unique system has all the standard telematic features but also offers fault reporting, full EV system monitoring including state of charge and charging costs and the system is able to evaluate whole life cost as well as provide a comparison against a diesel or other fuel equivalent.
This vehicle is the first in a new family of electric traffic management vehicles and it will be joined by a medium 5.2 – 7.5 tonne vehicle in 2021 and a large 18 – 26 tonne vehicle in 2022, which will all be heading to Kier when complete for long term rental and evaluation. The 3.1 tonne traffic management vehicle will be thoroughly tested over the following 12 months, first at Kier's Lohac and then onto other highways contracts.
VMS has invested heavily in its EV fleet as the business is looking to aid customers in making the decision to 'go electric' and become more sustainable in the future. This is just another step forward for the business, developing specific vehicles in line with conversion partners to meet client specifications.
Martin James, Managing Director of VMS Fleet Management Ltd said:
"VMS Fleet Management are proud to unveil the UK's first completely electric traffic management truck to the market. This vehicle will be put through its paces by the teams at Keir to make sure that this vehicle can work effectively and efficiently protect and assist the workforce out on UK highways.
"This marks the second EV innovation from us with Kier and just one of many EV firsts from VMS this year. We're always on the lookout to create new generation vehicles that will make a difference for our customers, as well as the environment. We are excited to continue to work with Kier Group who, like ourselves really value the benefits of sustainable transport, and look forward to making more exciting announcements with them soon."
Karl Simpson, Fleet & Plant Innovations & Business Improvements Manager at Kier Highways, said:
"This new generation EV traffic management vehicle is just the beginning for our EV fleet, with more additions planned to join the Master ZE L3H1 in the next few years. It's great to work with VMS Fleet Management on these sustainable vehicles, to help our fleet become more 'green', as well as deliver solutions for our teams on the ground. We're looking forward to working with VMS on growing our EV fleet into the future."
Grahame Neagus, Head of LCV at Renault Trucks UK, said:
"Renault Trucks UK and our dealer, Renault Trucks Chiltern, are delighted work with VMS and CPD Vehicle Conversions to put this unique electric vehicle into service with Kier Group, operating in an industry sector that is not normally associated with electromobility. It is a great platform for us to showcase the ever-increasing flexibility offered by EVs, and the confidence in the Renault Trucks Master Z.E. product within established VMS sectors like construction is laying the foundations for greener, cleaner and more sustainable fleets."
Formed in 2002, Hertfordshire-based VMS has grown from offering accident and vehicle management, to providing a full range of contract hire and fleet management solutions, together with a wide range of support services. VMS currently operates in excess of 5000 vehicles in its overall fleet, with over 1400 vehicles in its rental fleet alone.
Share this content online